http://jp.myspace.com/
世界大手のソーシャル音楽サイト、マイスペースでの宣伝を
請負いますよという業者さんから最近、と言っても半年くらい
前なんだけど、フレンドリクエストをもらったことがあった。
そこのPR活動の料金表がたまたま出てきた。(わざとらしい書き方
だけど。案外ほんまや。)なにからなにまで一切合財お願いする
ケースだと、月額が約40万円。
このいちばんお高いコースだとマイスペースだけじゃなく、
YouTubeプロモーションや音楽ブログへの売り込みまでしてくれる
みたいだ。ちょっと高いかもな・・・。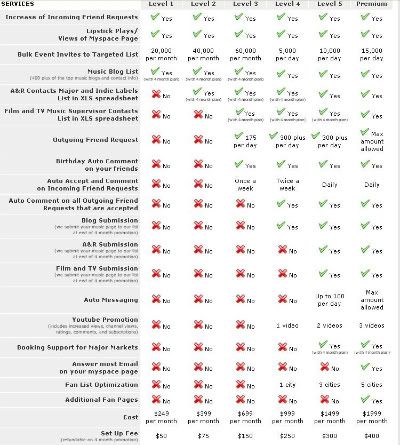 確か、元々バンドのストリートチームという立場でマイスペースの
バンドを盛り上げた実績からはじめたサービスだったように記憶し
ている。自分たちがマイスペで何をするのかかなり明快に書いてた。
(#抜け落ちてる項目があるかもしんないけど)
・マイスペースのフレンド募集ポータルサイトに登録しまくる。
・サクラのチーム・ブレーンを駆使してブログ、フォーラムに
 投稿したり、コメントをあちこちに書きまくる。
・フレンドリクエストをかける。
・承認してくれたユーザーにお礼コメントを投稿する。
・フレンドリクエストを承認して挨拶コメントを投稿する。
・ターゲット・エリアを絞ってライブの案内メッセージをだす。
・届いたメッセージに返信する。
・常にフレンドリストにメッセージを送信する。
・誕生日にメッセージを贈る。 
「あの手この手を絡めてバンドページへのトラフィックを増やして
フレンドになったひとをバンドページから離さない」というプランを
音楽ファンの立場・目線からベーシックに組み立ててたように思う。
まるで。ライブツアーだのなんだので忙しいバンドをサポートする
執事さんのようだ。 
対象がもっぱらアメリカ在住の方々で、日本語は使えない・わから
なかったような覚えもあり、いまさら気になって、さっき辿って
みたらアカウントが削除されていた。
http://www.myspace.com/tgmusic12
ぐぐるとキャッシュは残ってた。そこの説明書き。
#EXPLANATION OF SERVICES
★Increase of incoming requests
We have opt in lists of people interested in friend requests on myspace which we plug your profile into. You can approve or deny them, but this service will gets tons of requests coming your way. On the limited version on the budget plans you will see less requests.
★Lipstick Plays/Views on Myspace
Based on the same principle as above, we have huge opt in lists that we can post your music too. The result is extra plays and views on your page, which means a more active page, which is good while industry people are looking at your page. The numbers they will increas are based on how many current friends you have and what plan you choose
★Bulk Event Invites
Myspace has a Event Invite feature which is unlimited in its capacity. For messaging,friend requests, and comments you are limited to around 400 per day. With event invites, you can put anyting you want in the invite, it does not have to be an actual event, and you can send this out to as many people as you want, even though they are not your friends. Some people have the feature turned off, so the invite won't go to them, but many do, and this is a great way to supplement your friend requests and get people adding you. We suggest putting some music up on the event invite in some capacity, whether its a video or audio of some kind. You can use html in the event invite. We also suggest putting a banner in there that lets people add you directly from there. We have someone who can make the banner's and event invite for you if need be, but our service is to send this out for you to a targeted group of your choice. We can also do them for an actual event you are having, and you can buy packages of just this if you are interested.
★Music Blog List
This is a monthly updated list of over 500 music blogs along with contact information that you can submit your music too. Most of the plans inlcude you getting the actual list, and there is also a plan whereby we do all the submitting for you.
★A&R Label List
Another montly updates list, this one contains all contact information for every major and indie label. Things change quickly and so an updated list is advantageous to have. We can also submit your music to everyone on this list as well.
★Film and TV music superivsor/editor List
This is another quickly changing list, so having the most up to date information is vital to you getting your music to the people who can get it on film or television and more.
★Outgoing Friend Request
We send outgoing friend request to targeted potential fans with a short note
★Birthday Auto Comment on your friends
This is one of the most effective things you can do on myspace. Fans get a special message from you on their birthday
★Auto Accept and Comment on Incoming Friend Requests
We send out a comment and accept your incoming friend requests
★Auto Comment on all Outgoing Friend Requests that are accepted
You give us an ID list of new friends that accepted your friend requests and we send them a comment
★Blog Submission
We have over 400 music blogs to submit your music page. Either you submit it or we do depending on the promotion package you choose
★A&R Submission
We submit your music page to a list of several thousand industry people, both in major and idependent labels
★Film & TV Submission From our personal list, we submit your music to music supervisors and editors we already have relationships with
★Auto Messaging
We can send out mass emails to your fans about any number of things, including show promotion, new records, etc.
★Youtube Promotion Includes Channel Views, Videos Views, Comments, Subscriptions, Favorite, etc. We can put your Youtube page on Turbo charge
★Booking Support for Major Markets
We can provide booking support in major markets like LA, New York, Nashville, and others.
★Fan List Optimization
We can get itemized detail list of your fans by city so you can reach only fans in that city. Great for artists with big lists that need optimization on their fans.   
[広告]
MySpaceのフレンドリクエストを自動化するツール、アドトモ
http://addtomo.com/
最近、こんなところからも案内がきた・・・。
http://www.myspace.com/marketing7070